John Pirie Mair
M, #1232, b. 19 December 1902, d. 11 October 1981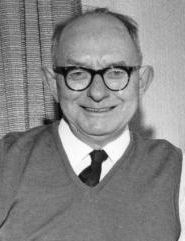 John Pirie Mair
(1902 - 1981)
photographed in 1973
(Kindly provided by Robert
Mair, courtesy of Liz Croy)
     John Pirie
Mair
was born on 19 December 1902 at 219 Portknockie, Banffshire, Scotland.
1
He was the son of
William

Mair
and
Catharine

Pirie
. His family was known by the tee-name of "Shavie".
He was listed as head of household's son in the 1911 census at 218 Portknockie, Banffshire, Scotland. Those recorded in the household were: Catherine Mair, house wife; John P. Mair, son; Charles Mair, son; Harry Mair, son.
2
John Pirie Mair was a fisherman. Bob Mair said that John Pirie Mair served on eleven of the Steamers and Drifters listed for Portknockie in the Buckie and District Directory 1926, including the steam drifter 'Celosia' BF 1056.
1,3

He married
Elizabeth

Findlay
at 14 Harbour Place, Portknockie, Banffshire, Scotland, on 20 September 1923.
4
John Pirie Mair died on 11 October 1981 at Nairn Town and County Hospital, Nairn, Invernesshire, Scotland, at age 78.
1