Frank Wemyss Gibson
M, #108, b. 20 April 1914, d. 4 March 1996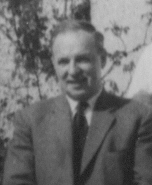 Frank Wemyss Gibson (1914-1996)
     Frank Wemyss
Gibson
was born on 20 April 1914 at 21 Nelson Street, Aberdeen, Scotland.
1,2
He was the son of
John Lyall Grant

Gibson
and
Jessie Jane Aden

Cruickshank
. He married
Isabella Wood

Pirie
at Aberdeen, Scotland, on 17 March 1952.
2
Frank died on 4 March 1996 at age 81.
2
His body was interred after 4 March 1996 at Countesswells Road, Aberdeen, Scotland, at Springbank Cemetery.
2
Citations
[S4620] Frank Wemyss Gibson, Register of Births in the District of St Nicholas in the Burgh of Aberdeen, "Frank Wemyss Gibson, 1914, April Twentieth 11h 30m A.M. at 21 Nelson Street, Aberdeen, Male. Father: John Lyall Grant Gibson, General labourer. Mother: Jessie Jane Aden Gibson M. S. Cruickshank, married 1905 June 28th in St. Nicholas. Informant: Jessie J. A. Gibson, Mother. Registered: 1914, May 9th at Aberdeen, James Pratt, Registrar."
[S777] Anne Elizabeth Mair, Neil Alexander Pirie, Information kindly supplied by Anne Mair of Aberdeen, Scotland.