---
Welcome to my Shropshire and Scafell Pike Expedition page.
The initial part of the expedition in Shropshire in May 2014 was spent exploring, hill walking, wild camping on Titterstone Clee and in Mortimer Forest, bellringing with the Ludlow ringers and running a half marathon.
As well as the twin summits of Brown Clee (Abdon Burf and Clee Burf) I walked the disused Clee Hill railway incline from the village of Bitterley up to the remains of the quarry buildings on Titterstone Clee.
Whilst at large in Shropshire I also walked along Wenlock Edge and ran in the rather hilly Wenlock Olympian Half Marathon between Much Wenlock and Ironbridge.
Then up the M6 for the Cumbrian part of the expedition, and the hairy journey over Wrynose Pass and Hardknott Pass to Eskdale, the base for my walk up Scafell Pike.
My route for Scafell Pike started at the Eskdale Campsite, near Boot. I headed east along the road toward Hardknott, turning off at Brotherilkeld Farm and following the 'footpath' alongside the River Esk, heading up-river. The going was frequently very squelchy underfoot. Over Lingcove Bridge and I continued up the River Esk, via Great Moss, until turning NW up Little Narrowcove.
Before long, Little Narrowcove became a tricky boulder scramble up to Broad Crag col. Having reached the col, I took the 'footpath' to the SW to ascend Scafell Pike itself. It was rewarding to realise that the surrounding crags and peaks that I'd been looking up to for so long were now below: I looked down on them!
The excellent weather was ideal for uninterrupted views from the rocky summit. There were just a few people coming and going, milling about the triangulation station and standing atop the cairn taking photos.
My descent to the west towards Lingmell Gill was definitely easier than the ascent! Wast Water provided a sparkling objective until near the bottom of Lingmell Gill I was able to turn south onto the bridleway towards Burnmoor Tarn and Eskdale Moor.
After my trek of over 20 miles, a few pints of Langdale bitter, brewed by Cumbria Legendary Ales, at Brook House Inn in Boot were very refreshing!
Other sights in the Eskdale area included the Eskdale stone circles on Eskdale Moor, and Hardknott Roman Fort near Hardknott Pass.
---
Titterstone Clee and Brown Clee, Shropshire
Camp above the quarry on Titterstone Clee
Plaque on the summit of Abdon Burf on Brown Clee (540m),
the highest point in Shropshire

Wenlock Edge was umbered,
And bright was Abdon Burf,
And warm between them slumbered
The smooth green miles of turf.
- A E Houseman
View of Titterstone Clee from Brown Clee

St. Mary's church, Bitterley, Shropshire
The disused railway incline and underpass on the western slope of Titterstone Clee
Looking up the disused railway incline

And a bit further up, looking back down the disused railway incline
Disused quarry buildings at the top of the railway incline
Abandoned workings of Titterstone Quarry

Abandoned workings of Titterstone Quarry
Triangulation Station on Titterstone Clee (533m),
the third highest point in Shropshire
Camp on top of Titterstone Clee

Sunset from the summit of Titterstone Clee
Silhouettes next morning
View of Brown Clee from Titterstone Clee

The descent of the north slope of Titterstone Clee
Lush countryside below
Greater Stitchwort growing wild along the way

Bluebells growing wild
Approaching Bitterley again
Looking back at Titterstone Clee from the north-west

Wenlock Edge, Shropshire
View from Wenlock Edge
(The Wrekin can just be seen through the branches on the right)
View from Wenlock Edge
View from Wenlock Edge

Wenlock Olympian Half Marathon, Much Wenlock, Shropshire
Race spectators: Cicely Harding and Daphne Pirie
Departing the William Brookes School on the
Wenlock Olympian Half Marathon
Wenlock Olympian Half Marathon finisher

View of Titterstone Clee Hill behind Ludlow
The soaring tower of St. Laurence's church, Ludlow

---
Scafell Pike, Cumbria
Heading east along the road from Eskdale towards Hardknott Pass
Cars on the winding road up to Hardknott Pass
The drive over Hardknott and Wrynose Passes is not for the faint hearted

Following the path up the River Esk from Brotherilkeld Farm
The pyramid of Bowfell in the distance
One of the waterfalls on the River Esk
Looking back down to Lingcove Bridge and the sheepfold

More waterfalls on the River Esk
Looking up to Throstlehow Crag
Scafell Pike, Broad Crag and Ill Crag come into view

Scafell Pike and Ill Crag seen across Great Moss
Turn to the NW to head up Little Narrowcove toward Broad Crag col
Boulder scramble: looking back down Little Narrowcove

Looking back down from Broad Crag col
Scafell Pike summit
The triangulation station at the Scafell Pike summit (978m)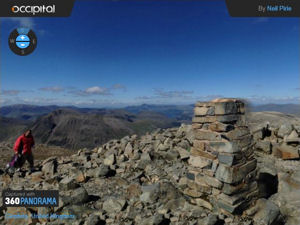 360° panorama of the Scafell Pike summit (978m), including the triangulation station and cairn

Click to open this panorama in a new window

Note: swipe the image left or right to rotate the view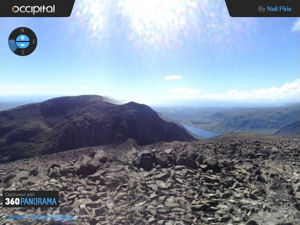 360° panorama from atop the cairn on Scafell Pike summit

Click to open this panorama in a new window

Note: swipe the image left or right to rotate the view

View from the summit towards Ill Crag
View from the summit towards Derwent Water, and Skiddaw and Blencathra behind
One of two paragliders taking in the scenery

View of Great Gable from the summit
Triangulation station and me
Heading down the path towards Wast Water

Looking back at Pikes Crag and Pulpit Rock
Looking back up Lingmell Gill to Pikes Crag and the Pulpit Rock pinnacle
Looking back to Scafell from Burnmoor Tarn
(Not Scafell Pike)

Eskdale stone circles
Another Eskdale stone circle
The walls of buildings within Hardknott Roman Fort

Looking up at the road to Hardknott Pass from Hardknott Roman Fort
Looking down at Eskdale from Hardknott Roman Fort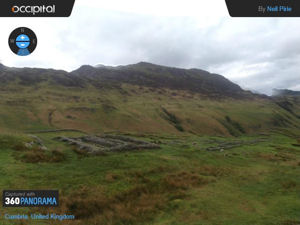 360° panorama of the Hardknott Roman Fort and Hardknott Pass

Click to open this panorama in a new window

Note: swipe the image left or right to rotate the view
---